Dolphin Watching
Witness Dancing Dolphins in Destin & Fort Walton Beach, Florida
Destin and Fort Walton Beach are both known far and wide for whimsical wildlife, enchanting emerald waters, spectacular sunsets, and scenic views that stretch as far as the eye can see. What do you get when you combine all of these terrific things into one family-fun activity? A Destin dolphin watching excursion, of course! 
Destin dolphin tours and cruises are one of the best ways to witness dazzling dolphins in their natural habitat, and see the Emerald Coast from a whole new perspective. Soak in the scenic views as a local and knowledgeable captain and crew lead you to pods of playful dolphins, and provide fun and informative narration along the way. Dolphin cruises are one of the top family-friendly things to do in Destin-FWB, and are sure to leave you with memories that will last a lifetime!
Dolphin cruises aren't the only way to see these captivating creatures, either! It's not uncommon to see dolphins while soaking up the sun at the beach, or walking on The Island Pier, for example.  The Gulfarium Marine Adventure Park on Okaloosa Island is another great way to experience dolphins up-close, as well as other awesome aquatic animals. However you decide to search for dolphins, it's sure to bring a little magic to any Emerald Coast vacation!
One of the most popular activities in the Destin-FWB area is dolphin watching. These captivating creatures are a sight to see, no matter if it's from the shoreline, your beach condo, The Island Pier, or aboard a dolphin cruise! There is just something about witnessing these wonderful marine mammals that makes any beach vacation that much more special.
Not only that, everyone in your group is sure to love searching for dazzling dolphins, especially on a Destin or Fort Walton Beach dolphin cruise! Dolphin cruises are fun and suitable for all ages, from small children to grandma and grandpa. However you decide to witness these wonderful creatures, you're in for a fun and unforgettable time!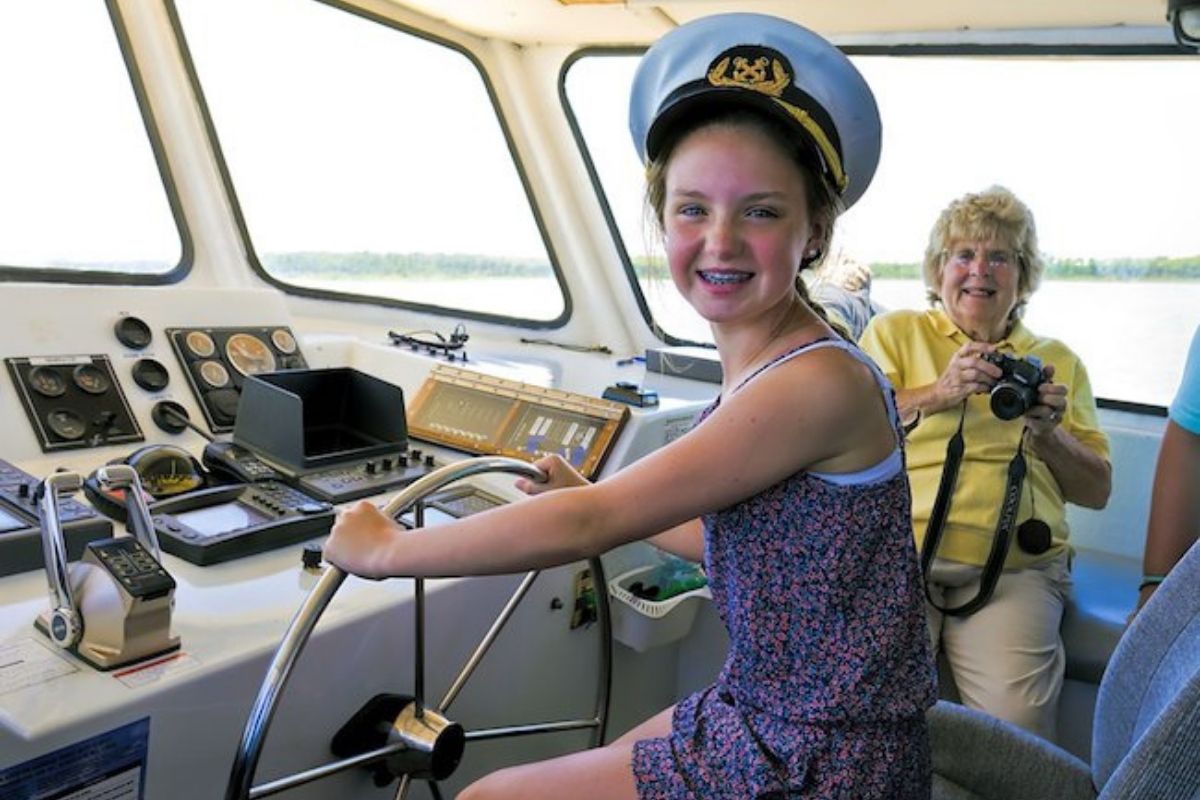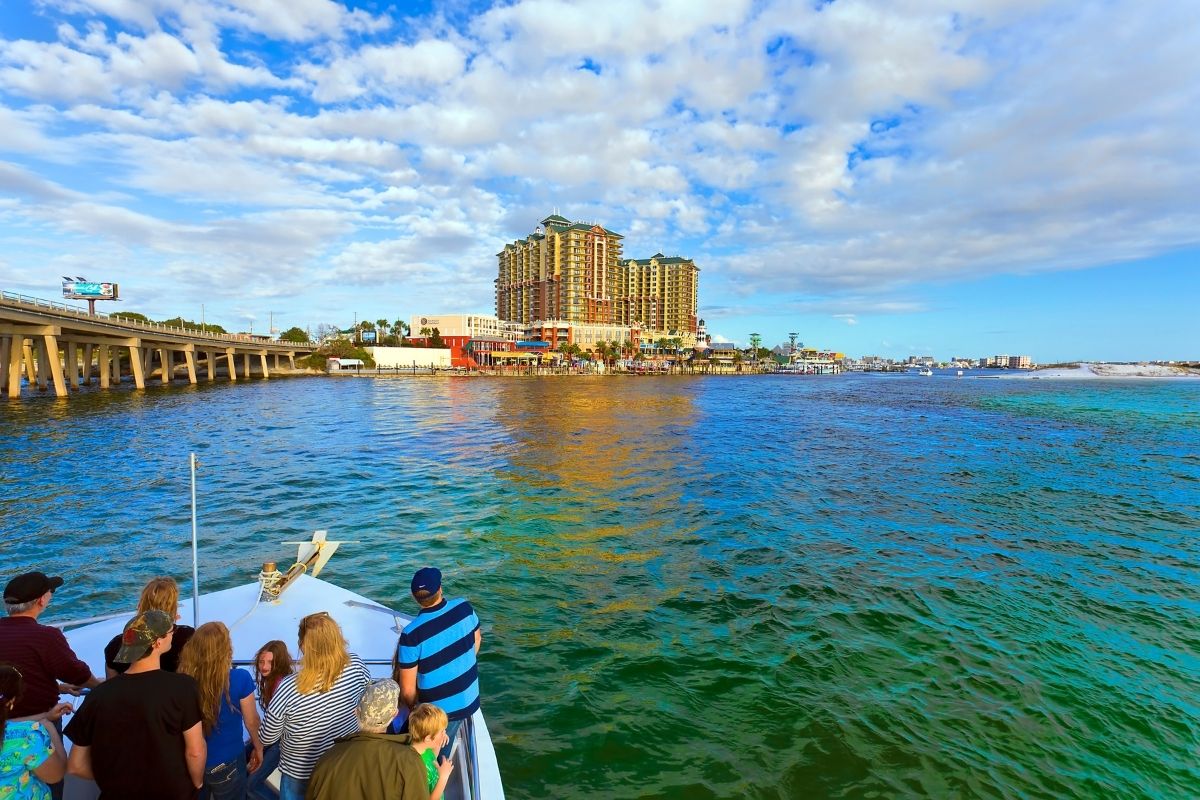 MORE TO SEE THAN DOLPHINS
While dolphins are definitely one of the main attractions, they aren't the only stars of the show! When on a dolphin watching excursion in Destin and Fort Walton Beach, there's so much more to see than dolphins, from spectacular scenic views to other wonderful wildlife. Additional animals you may encounter along the way include sea turtles, schools of fish, stingrays, and more!
The Emerald Coast is home to tons of scenic beauty just waiting to be witnessed, and dolphin watching tours are a great way to do so. From the area's beautiful beaches, to stunning and vibrant sunsets, there are plenty of sights to see when dolphin watching in Destin. This is also a great opportunity to see the bustling HarborWalk Village in all of its glory, from a whole new perspective!
One may think that spending the afternoon with dancing dolphins may break the bank, but it doesn't have to! In fact, there are many free and cheap ways to see dolphins in both Destin and Fort Walton Beach. Dolphins love the Emerald Coast, and can often be spotted from the shore, the Okaloosa Island fishing pier, or even from the Destin Harbor!
The Gulfarium Marine Adventure Park is an affordable way to see dolphins up-close, with tickets costing less than $30.00. Dolphin cruises and tours are also fun and affordable, and come in all shapes and sizes with options for everyone. With that being said, dolphin watching is the perfect source of affordable family fun, and a great way to make memories that will last a lifetime!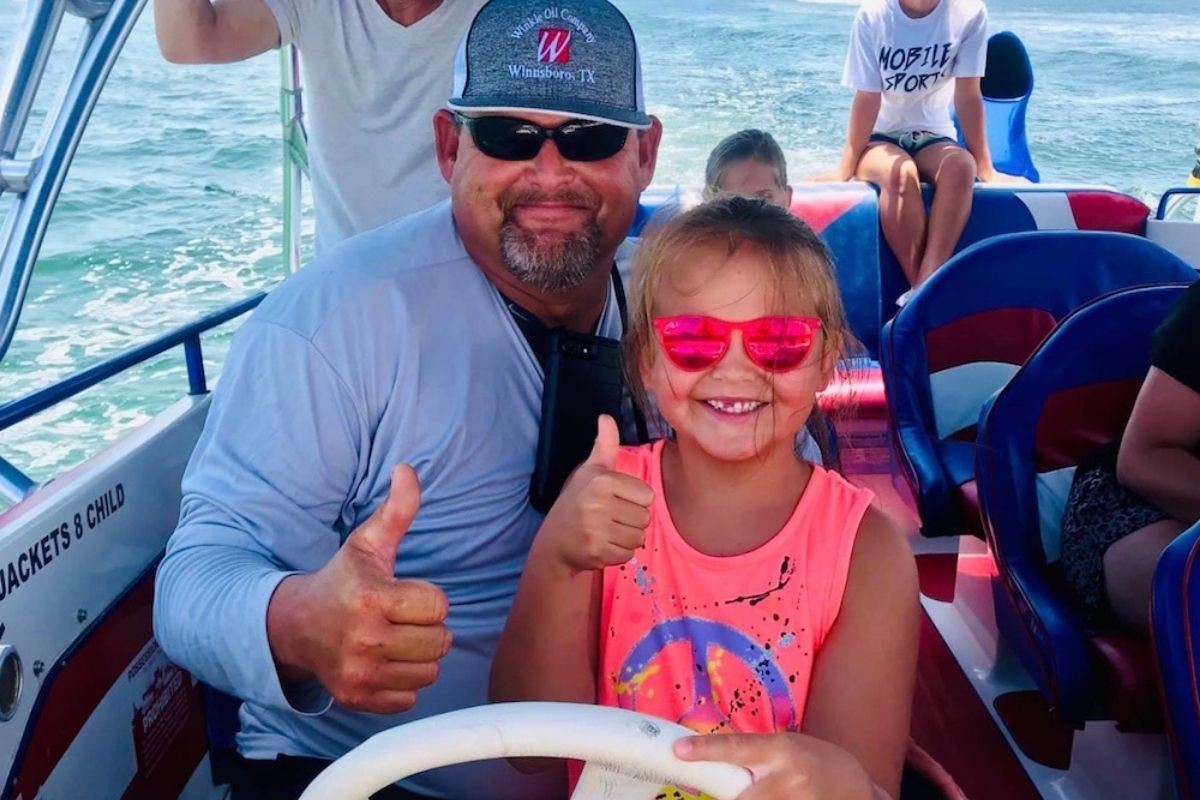 BEST DOLPHIN WATCHING IN DESTIN-FWB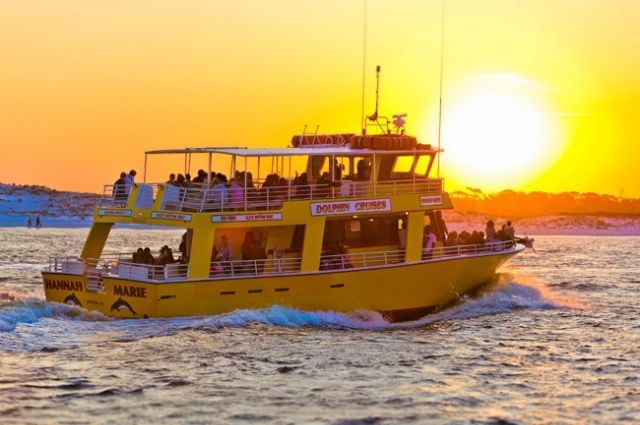 DOLPHIN CRUISES
Dolphin cruises and tours are one of the best ways to see dolphins in Destin and Fort Walton Beach. Led by an experienced and local guide, dolphin cruises take you to places where dolphins are commonly spotted along the Emerald Coast, for an up-close and unforgettable experience! Not only that, participants will get to enjoy entertaining narration, spectacular sunsets, and unparalleled scenic views.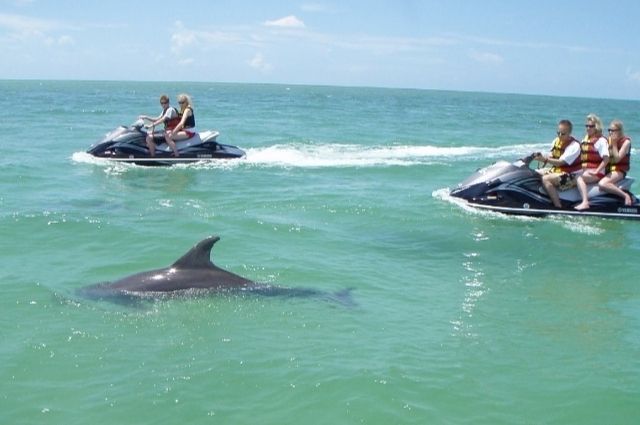 WAVERUNNER DOLPHIN TOUR
If you're in search of an exhilarating, exciting, and unique dolphin watching experience, then look no further! Waverunner dolphin tours are when multiple guests or groups come together for a common tour, which is led by a local and knowledgeable guide. These tours get you up close to dolphins and other amazing marine life, for a high-energy, adrenaline-pumping experience!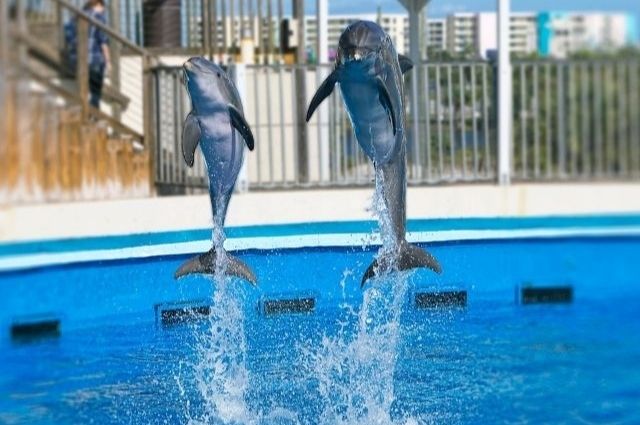 GULFARIUM MARINE ADVENTURE PARK
The Gulfarium Marine Adventure Park is the place to be for aquatic adventure on Okaloosa Island. This amazing aquarium has been entertaining both locals and visitors alike for decades with awesome animals, spectacular shows, exceptional exhibits, and so much more! From swimming with sharks and stingrays, to watching dolphins jump for joy at the Dolphin Theater, there's no shortage of family fun to be had at Gulfarium Marine Adventure Park!
Destin-FWB Dolphin Watching FAQ
More Activities & Tours in Destin-FWB, Florida